This is a list of challenges which have appeared on the television show Asia's Next Top Model.
Each episode usually begins with the contestants receiving training in an area concurrent with the week's theme. For example, contestants may get coached in runway walking, improvisational acting, and clothing to suit various occasions. A related challenge soon follows, such as a mock (or real) runway show or interview, where one of the models is chosen as the winner.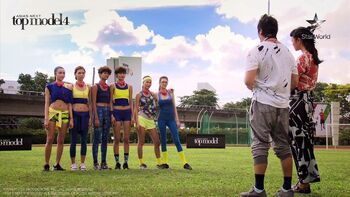 The winner of the challenge receives some prize, such as a contract, a night out, or an advantage at the next photo shoot. The winning contestant is sometimes permitted to share their reward with other contestants of their choosing and on some occasions, may gain immunity from elimination at the next judging. Losing the challenge can result in some minor punishment, like losing frames for the next photo shoot. It can also end in the immediate elimination of the contestant.
Each episode, which covers the events of roughly one week of real time, is usually associated with a theme in the world of modeling, such as dealing with the press in interviews, selling a commercial product, appearing in a runway show, or visiting prospective employers in "go sees".
Challenges
Cycle 1
Cycle 2
| Episode | Challenge | Winner(s) |
| --- | --- | --- |
| 2.02 | Sent out to the streets of Kuala Lumpur to take their best selfies. | Poojaa Gill |
| 2.03 | Walk on top of KL Tower and end their ads with a smile as a commercial for Visit Malaysia 2014 campaign. | Josephine Tan |
| 2.05 | Team work challenge. | Tia Taveepanichpan |
| 2.06 | Impress the crowd and be the most memorable model among the pack. | Jodilly Pendre |
| 2.07 | Create the day and night look in two different occasions in front of the judges. | Sheena Liam |
| 2.08 | Make a campaign with millipedes. | Tia Taveepanichpan |
| 2.11 | Perform a fashion show inside the plane wearing dresses from Malaysian designer Jonathan Liang. | Sheena Liam |
| 2.12 | Go-see challenge with the Harper's Bazaar Malaysia | Sheena Liam |
Cycle 3
Cycle 4
Cycle 4 introduced a new scoring system in which the contestants would receive scores for their performances at challenges.
| Episode | Challenge | Winner(s) | Score |
| --- | --- | --- | --- |
| 4.01 | Walk down the sloping runway and stopping to pose at each corner. | Patricia Gunawan | 9.5 |
| 4.02 | Complete a trampoline routine and stopping to pose in the middle of the routine. | Angie Watkins | 8.8 |
| 4.04 | Replicate Nicole Chung's yoga poses on a surfboard while floating on water. | Angie Watkins | 15.0 |
| 4.05 | Hold a pose as mannequins for 30 minutes while they were styled by Thai fashion sensation Madeaw. | Sang In Kim | 10.0 |
| 4.06 | Given 10 minutes to dress themselves with clothes and accessories from the Zalora store in accordance to a color palette they chose randomly. | Tuti Noor | 10.0 |
| 4.07 | Acting out scenarios emphasizing their attraction with Tom Rodriguez as their co-lead. | Patricia Gunawan | 9.0 |
| 4.08 | Go-see challenge where they had a total of three clients to meet: Pevita Pearce, a brand ambassador for Maybelline, Chelsea Scott, and Zenchi. | Angie Watkins | 8.3 |
| 4.09 | Perform several excruciating exercises and then sprint to the backstage of a runway, get changed, and strut down the runway while keeping their composure. | Tuti Noor | 8.3 |
| 4.10 | Walking fiercely on the runway while embodying smooth TRESemmé hair. | Patricia Gunawan | 10.0 |
| 4.12 | Make video campaigns and photo montages of Sentosa Island. | Sang In Kim | 8.3 |